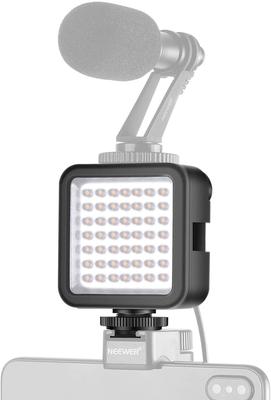 I have been looking for a small LED light that can be mounted on a camera cold shoe to use with my GoPro. I mostly use it to illuminate small objects in front of the camera, but you could also put it on a mini tripod instead of mounting directly on the camera. I already have a larger Neewer LED light and have been very satisfied with it. At the moment this mini light costs £9.99 on Amazon.
This small light comes with a standard quarter inch thread on the bottom and a cold shoe, so it can be attached to most cameras that have a hot shoe adaptor, or anything like a tripod that has a quarter inch screw mount. All four sides have slots for cold shoe adaptors and you can use these to link panels together, creating a bigger light array. The unit I ave comes fitted with a diffuser panel in front of the LED's.
The light requires two AA batteries (not supplied) to power it. The on/off switch also acts as a dimmer. The LED's output daylight balanced light at 6000K It only weighs around 100g, so you won't notice the weight in your gadget bag. The light is available with 36, 49 and 81 LED's. The angle of illumination is around 60 degrees. I have the 49 LED version, which is small enough to fit into most pockets. I don't know what the battery life is, but since it uses AA cells you can always carry around a couple of spares in case you run out of power.